We have been ranked as the top professional negligence solicitors in the UK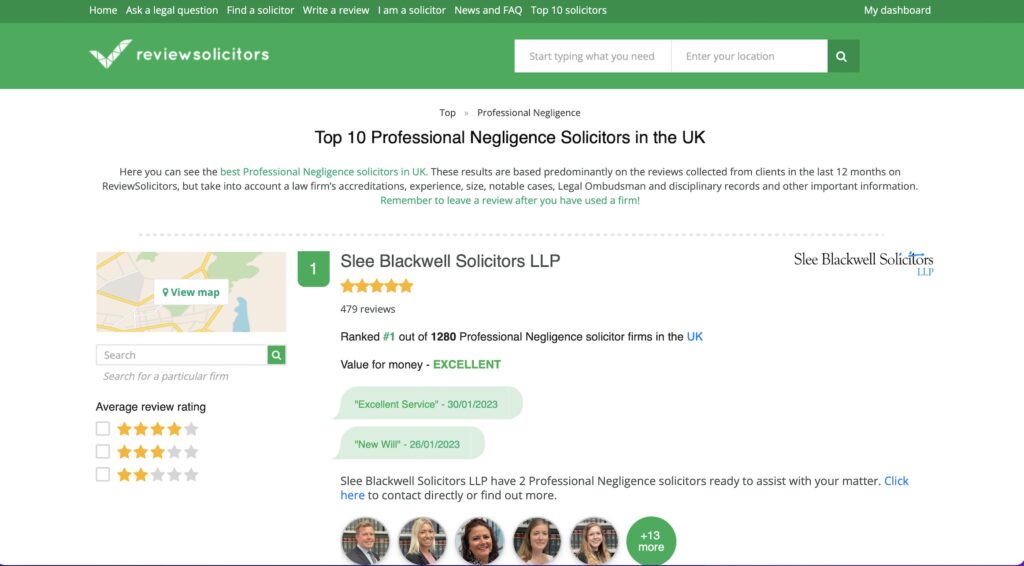 Legal review platform, ReviewSolicitors, has ranked our team as the top professional negligence solicitors on the basis of reviews collected from clients in the last 12 months. The ranking also takes into account factors such as legal accreditations, experience, size, and notable cases.
We are proud of this achievement, particularly as we are ranked first out of no less than 1,280 firms of solicitors dealing with professional negligence claims in the country.
It also rates us as 'Excellent' for providing 'Value for Money'.
The ReviewSolicitors platform (which the company says attracts over 4.5 million users each year) was established seven years ago with the aim of creating a fair and transparent community for clients to leave reviews about the firms of solicitors they had dealt with.
The Legal Services Board, an independent body that is responsible for overseeing the regulation of lawyers in England and Wales, has been actively encouraging the use of review platforms to improve the quality of legal services.
Our team is led by Emma Slade, a solicitor with extensive experience of dealing with professional negligence claims against  professionals from all disciplines. Emma's personal reviews on the ReviewSolicitors site are particularly impressive. One reviewer wrote the following:
"My advice is let these professional solicitors like Emma Slade show you real professionalism at work. So courteous and quietly confident she didn't even ask me for a penny on account to start my claim immediately and within a short time won me nearly Fifty Thousand Pounds, absolutely amazing.

I spent more time and money seeking useless help. I only wish I had met Emma and the team sooner.
Thank you again guys truly fantastic work. No job too big or too small they treated me like a king!!
Highly Recommended. 10 Stars!!!"
While another reviewer commented:
"I consulted Emma Slade regarding a letting/ managing agent negligence matter. In short, she is absolutely fantastic. Not only did Emma show excellent legal knowledge and experience but she also displayed huge customer awareness, practicality and understanding, seeking always to minimise and protect the customer from unnecessary high costs where at all possible but without compromising on her professionalism and expertise. She dealt with all communications promptly, fairly and sagaciously and was an absolute delight to work with: one in a million. She is an absolute credit to the practice and to the legal profession in general. I am hugely impressed by her and accordingly, I cannot recommend her highly enough."
So, if you would like the top professional negligence solicitors in the UK to carry out a free review of your case to see whether we can assist you on a No Win – No fee basis, then contact us on 0333 888 0403 or email details of your claim to us at 

[email protected]
https://www.reviewsolicitors.co.uk/top/professional-negligence/